FALL Season

Featuring
The Hearth
Toshi Reagon
Oye Group
Stacey Rose
Peter Evans
Shamar Wayne Watt
Kareem M. Lucas
​



Jillian Walker
Black Revolutionary Theatre Workshop
Pioneers Go East Collective
In Kyung Lee
Our local seniors
Robert Quillen Camp
​Greg Zuccolo


Pioneers Go East Collective:
COWBOYSCOWGIRLS (sagittarius)
November 15 - 18
Tickets:
$18
An interactive performance installation by Pioneers Go East Collective that explores and explodes the myth of the American Cowboy and Cowgirl, looking with humor at how chauvinism and bravado transpose into Gay subculture. In the piece, audience members are invited to don Western attire and sit around a theatrical campfire while performers, both live and on video, share stories of bullying, self-discovery and coming out.
---
THIS WEEK:
Release of Sufjan Steven's "Lonely Man of Winter" to benefit JACK
​
In an end to a controversial years-long project in which JACK founder Alec Duffy won the rights in 2007 to a new song by Sufjan Stevens and shared it only through listening sessions in his home, Duffy has decided to release the song, "Lonely Man of Winter," on Stevens' label
Asthmatic Kitty Records
, with proceeds going to support JACK's mission of fueling experiments in art and activism.
Listen to the song
here
.
MORE INFO
HERE
.
---
---
JACK | 505 1/2 Waverly Ave., Brooklyn, NY 11238 | Between Fulton St.


and



Atlantic Ave. in Clinton Hill |
C or G train to Clinton-Washington | MAP
Powered by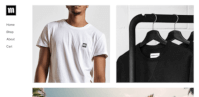 Create your own unique website with customizable templates.