You're One of Us!
Presented by
The Funny School of Good Acting
Mondays, May 28 to July 2 at 7 pm
Tickets:
$10 in advance, $12 at door
See it for the 1st time or come back again! Join the community of ha-ha-ha! It's a different show every night! 'Cause there's improv. And also - different actors under different masks. Wanna geek out over the subtle differences between one actor's Smeraldina and another's - we got you! And also - The company is comprised of 14 of the most dangerously talented, bravest, funniest and most exquisite actors in the world, but it's not always going to be the whole company so different combos and different actors will be featured each go around. Figure out which ones are your favorites. Collect them all! And also - new material each week. Who knows what is gonna happen next? Not us!
The Funny School of Good Acting
is a nomadic school. It is a sneak-attack school. It's stealthy. We arrive like a fragile, thundering, lopsided circus. Disturb the whole neighborhood for a day, or a week (6 weeks in the summertime) with our fun and disastrous adventures and then disappear. Leaving only the pungent scent of our laughter, a small puddle of tears and the faint echo of our beautiful little songs.​ How shall we begin this adventure? We begin by trying to open like a little flower. We begin with the pursuit of the clown.
Virginia Scott is a director/devisor/teacher of physical theater. She teaches (or has taught) Clown, Commedia, Le Jeu, Bouffon, Melodrama, physical acting, and all that kind of wiggling it around at schools in NYC such as The Juilliard School, Pace University, Marymount Manhattan College, Movement Theatre Studio, The Michael Howard Studio, Stella Adler Studio and CAP 21, in Los Angeles at USC (MFA), The Idiot Workshops, The Clown School, Art of Acting and Berg Studios and internationally at Tisch School of the Arts at NYU: International Theatre Workshop in Amsterdam. In LA she recently created an original commedia performance in concert with a full orchestra (kinda weird but super fun!) for Symphony in the Glen at the Griffith Park stage, another commedia show for the Fowler museum at UCLA and an original clown show, Sapo Concionero, at the Hollywood Fringe. The Bouffon troupe, Les Enfants Maudit, she founded continue to take on power and shake things up around Los Angeles. In NYC she created (with some amazing Funny School people) The Brighella Brother's Sausage Shop a commedia show which will be back again on some coast or another some day, dammit! ​ Additional shows Virginia has directed and/or devised have appeared in New York at The Irish Repertory Theatre, Ars Nova Mainstage, 59E59, The Zipper Theatre, UCB, The PIT, The Algonquin Theatre, The Broadway Comedy Club, The Barrow Group Theatre, Chasama's Palace of Variety, The New York Fringe Festival and the International Clown Festival; regionally at The US Comedy Arts Festival in Aspen, The Theatre at Monmouth in Maine, The Comedy Central Theatre and UCB LA in Los Angeles, The Dell'Arte School in Blue Lake, CA, and internationally at The Guilded Balloon in Edinburgh, The Centaur Theatre in Montreal and the Grahamstown International Festival in South Africa.

Photo Credits:
Nick Mayfield & Gabriel Levey
Powered by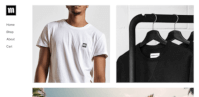 Create your own unique website with customizable templates.