The Seniors of Grace Agard Senior Center:
The Yesterday Morning Church, by Gail Rivers
Dec. 1 at 12 pm and Dec. 2 at 3 pm
Ticket info to come

JACK's collaboration with our local senior center continues with this presentation of a play by one of the seniors, Gail Rivers, with the roles taken by members of the senior community. In the comic play, a church community reels after discovering their charismatic minister is absconding with church funds.
Powered by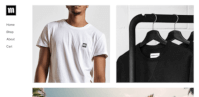 Create your own unique website with customizable templates.