JACK Supporters
JACK's programming is made possible by the National Endowment for the Arts Art Works program, New York City Department of Cultural Affairs in partnership with the City Council, by the New York State Council on the Arts with the support of Governor Andrew Cuomo and the New York State Legislature, New Music USA's NYC New Music Impact Fund (made possible with funding from The Scherman Foundation's Katharine S. and Axel G. Rosin Fund), Humanities New York, Brooklyn Arts Council, The DuBose and Dorothy Heyward Memorial Fund, the Mental Insight Foundation, The Peg Santvoord Foundation, The Lida Foundation, Harkness Foundation for Dance, The Laura B. Vogler Foundation, The Bains Family Foundation and M & T Charitable Foundation.
Individual supporters in 2018:
(* denotes Monthly Sustainers)
$2,500 - $4,999
Jeanne Duffy, Lance & Sarah Cohen Fensterman, Doug & Teresa Peterson
$1,000 - $2,499
Dave Malloy & Eliza Bent, Jeffrey Steinman & Jody Falco
$500 - $999
Matthew Moulder & Victoria Meringoff, Jason Kemper, Thor Perplies, Amy Laird Webb
$250 - $499
Leslie & Harrison Bains, Jr., Rachel Chavkin & Jake Heinrichs*, Brian Cintani & Jennifer Shumansky, Schellie Hagan, Danny Kahn, Adam Kudzin, Randall & Indra Malloy*, Mark Rossier*
$100 - $249
Robin Allstadt, Jeremy Blocker, David Chavkin*, Brian Cohen & Maggie Poxon, Maxwell Dana, Robert Drinan and Kim Westcott, Jacquelin Drury, David Frankel, Sue Gilad, Maria Goyanes, Carmine Laliberte, William Mazza, Tamara McCaw, Cass Meehan, Dan Rothenberg, Scott Seitz, Yoko Shioya, Pinky Weitzman
$50 - $99
Tara Ahmadinejad*, B. Brian Argotsinger*, Sarah Benson, Sabrina Brockman, Charles Connaghan, Randy Field, Rhonda Kendrick, Jeremy Lydic, Annika Mak, Or Matias, Tyler Micoleau*, Rachel A. Silverman*, Emily Suzuki, Morgan Tachco, Brenda Withers*
And many donors at the $1 - $49 level.
Powered by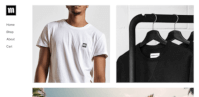 Create your own unique website with customizable templates.