ALEC DUFFY RELEASES LONG-HELD SUFJAN STEVENS SONG TO BENEFIT JACK

​· November 8, 2018
​In an end to a controversial years-long project in which JACK founder Alec Duffy won the rights in 2007 to a new song by Sufjan Stevens and shared it only through listening sessions in his home, Duffy has decided to release the song, "Lonely Man of Winter," on Stevens' label
Asthmatic Kitty Records
, with proceeds going to support JACK's mission of fueling experiments in art and activism.
· BACKGROUND

In 2007, before he founded JACK, Alec Duffy entered his song "Every Day is Christmas" in singer/songwriter Sufjan Stevens' Xmas Song Xchange Contest. To his surprise, he won the contest, and exchanged the rights to his song for "Lonely Man of Winter," a new song that Sufjan wrote and recorded specifically in response to Duffy's song. No one had ever heard the song but Sufjan, who had recorded it alone, deleting all traces on his end.

Duffy consulted his friend, composer Dave Malloy, about what to do with this treasure. Duffy explains:

"I wanted to honor the unusual way this song was transferred to me. Dave and I talked about using the song as an opportunity to re-create a time before the internet, when you had to dig through bins in a record store to find that rare Prince B-side or a Beatles album that had only been released in Germany. And so Dave and I started to host listening sessions in my home. Four people at a time would come, and after we got to know each other a little, they'd put headphones on and hear the song."

Though the listening sessions started in their homes, as they traveled, they ended up holding these sessions all over the country, as well as in Finland and the Czech Republic.

But, in 2012, Duffy started JACK, and soon found himself without time to hold listening sessions. The song languished for several years. He continues:

"I finally felt that it was doing no good just sitting in my home, un-shared, so I talked to the folks at Asthmatic Kitty about bringing the song home, in a way, by releasing it on Sufjan's label. I also thought it would be a good opportunity to raise funds for JACK, helping us to better serve all the emerging artists that we present."

After Duffy approached the label, Sufjan went back into the studio with Thomas Bartlett and Melissa Mary Ahern to record a newer version of "Lonely Man in Winter." On November 9, Asthmatic Kitty Records will release the two versions of the song, alongside Duffy's "Every Day is Christmas," on digital platforms, followed on December 7th with a limited pressing on seven-inch vinyl split featuring the two versions of "Lonely Man of Winter."

Proceeds from sales of the song help JACK in its mission to fuel experiments in art and activism and help it serve as a launchpad for the next generation of transformative artists.

More about Asthmatic Kitty Records: asthmatickitty.com
Thomas Bartlett: @tommydove

Powered by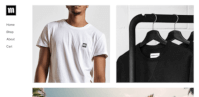 Create your own unique website with customizable templates.