Stand in
By Lily Whitsitt/Door 10
Wed. and Thurs., Feb. 5 and 6
9 pm
Lily Whitsitt/ Door 10's newest work, STAND IN, is created in collaboration with musician/ performer Eric Lindley, who records under the name
Careful
. Featuring acoustic songs from Careful's new album The World Doesn't End, STAND IN is a work-in-progress, a performance that is stuck in an eternal state of rehearsal and never quite gets it right. The performer is off, the costume is too small, and something is bound to go wrong.
Wednesday, February 5th at 9:00pm
Thursday, February 6th at 9:00pm
Tickets: $10, available at
www.brownpapertickets.com/event/565358
Created and produced by Door 10
Conceived and directed by Lily Whitsitt
Music and performance by Eric Lindley (Careful)
Sound by Jim Dawson
Lights by Solomon Weisbard
Stage management by Elizabeth Stahlmann
Production Management by Sarah Peterson
www.door10.org
Powered by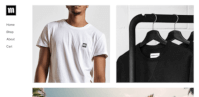 Create your own unique website with customizable templates.