Songs of Speculation
Presented by Jillian Walker
November 1 - 3
Tickets: $18
In
Songs of Speculation
, writer/performer/dramaturg Jillian Walker shares a solo performance imagining the history of 1700s New Orleans at the intersection of sex, power, policy, economy and race. Filled with ethereal songs, ritual, language experiments, and peppered with Powerpoint, Walker fuels a remembrance and a recollection of a history that has had to recede and retreat.
DATES
Thursday, November 1 at 8 pm
Friday, November 2 at 8 pm
Saturday, November 3 at 8 pm
Jillian Walker is a multi-faceted artist, coach and cultural leader. She is the writer and performer of
SKiNFoLK: An American Show
(SPARK Festival at Pittsburgh CLO, Starr Readings Series, 2017 ANT Fest), a passionately personal exploration of theatrical content and form. Her play,
SARAH'S SALT
, received an Honorable Mention for the Relentless Award from the American Playwriting Foundation and is the winner of the 2017 Columbia@Roundabout Reading Series.
Jillian was the inaugural Immersion Fellow at JACK, helping to facilitate their year-long series 'Reparations365.' She believes in Dramaturgy as a liberatory tool and practice that applies to every area of life. She studied English
& Afro-American and African Studies
at the University of Michigan, holds
a certificate in Acting from The Studio / New York Conservatory, and
an MFA in Dramaturgy from Columbia University.
Powered by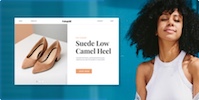 Create your own unique website with customizable templates.