Ensemble
Pamplemousse
Sunday, March 29 at 8 pm
TICKETS: $10 in advance, $15 at the door
Ensemble Pamplemousse
presents new and recent works by and for Pamplemousse. In keeping with Pamplemousse tradition, the works run the gamut of contemporary American music and its commentary­ Andrew Greenwald's obsessive complexity; Natacha Diels' intently distracted focus on performance gestures; Bryan Jacobs' aggressive electroacoustic virtuosity; Dave Broome's protracted elaboration of dark pop humor; and Jessie Marino's use and misuse of analog electronics and low budget staging.
Natacha Diels, flutes
Kiku Enomoto, violin/viola
Jessie Marino, cello
Dave Broome, piano
Andrew Greenwald, drums
Bryan Jacobs, electronics
www.ensemblepamplemousse.org
facebook.com/ensemblepamplemousse
Twitter : @pamplemoussies
Powered by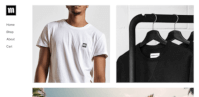 Create your own unique website with customizable templates.