Movement Research Festival
Day Six:
​history/mystery/periphery/party
Saturday, June 11, 2016
​8 pm and 10 pm
SATURDAY JUNE 11 at 8 pm and 10 pm:
history/mystery/periphery/
party
$10 / event or $15 for both events

Part of:
Hand Written Note(s)
Movement Research Festival: Spring 2016
June 6–11
Curated by Aretha Aoki, Elliott Jenetopulos, Eleanor Smith, and Tara Aisha Willis

8 PM:
Offerings from Jonathan Gonzalez (picture above), Michael Mahalchick, Lily Bo Shapiro, and Social Health Performance Club (Ivy Castellanos, Ayana Evans, Zachary Fabri, Maria Hupfield, Geraldo Mercado). This performance will celebrate indescribable histories, outer limits, peripheries, and the party within us all. Part celebration of performance, part commemoration of the festival's closing, and part observance of the quiet strength inside. What does it mean to watch with soft eyes, to offer support for yourself and everyone else in the room, while also being held in support? This river of energetic exchange is not fleeting. Let's celebrate it.

AND THEN...

REVEL
10 PM AT JACK
$10 / PERFORMANCE PARTY
Hosted by Becca Blackwell and BASHIR DAVIID NAIM with special guest performances in a nonlinear fashion.
Sometimes self-care means dance party. Let's come together to celebrate bodies in space. Let's take up the space we're told is not ours to hold. Let's celebrate each other's selves. Let's try to love our past selves / trust our future selves. Let's leave space for time travel. Move through the time-space continuum at your own pace. Dance in your divine dark light. Party on.
Insert space

$10 each or $15 for both events
Powered by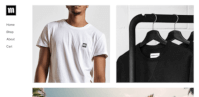 Create your own unique website with customizable templates.