Brooklyn Band Bash 2: Peptalk and Balun
SUNDAY, SEPT. 15 AT 8 pm
$10 at door
Peptalk
is a new band in Greenpoint, Brooklyn whose members hail from Puerto Rico, Tokyo and Los Angeles: Angélica Negrón (Balún), Shayna Dunkelman (Xiu Xiu), and Preshish Moments (Tyondai Braxton).
Peptalk draws inspiration from Exotica, a mid-century musical style exploring mystical foreign cultures. Peptalk integrates those retro sounds with EDM, Dub, Psychedelia, and 60's J-pop, using tons of percussion, vocals, synths, animal sounds and a menagerie of exotic instruments.
Video of "Nilbog":
http://www.youtube.com/watch?v=O7HPtWhc9hY
Find more at:
https://soundcloud.com/peptalk_music
Balun
: Brought together by their love of simple melodies, 16mm films, classical and folk instruments, and experimental pop music, Balún was formed in San Juan, Puerto Rico by José Olivares and Angélica Negrón. Currently based in Brooklyn the group now includes Andrés Fontanez, Noraliz Ruíz and Shayna Dunkelman.
In 2006 the band released their debut album "Something Comes Our Way" (Brilliante Records) after years of self-releasing CD-Rs and MP3-EPs on different labels. This album received critical acclaim from various music sites such as AllMusic, Textura, and Flavorpill. Since their relocation to the United States the band has performed in venues around the country and festivals such as Decibel Fest, Pop Montreal, FMEL, and NYC Popfest.
Their second album, "Memoria Textil", was self-released in February 2010 as a limited edition handmade CD-R and as a digital download to critical acclaim from influential Latin American indie music site Club Fonograma. In 2011 and 2012 the group released three digital singles "Camila" (Sgulp! Discos), "El Medio Contenido" (BEKO DSL), and "La Luna" (Sgulp! Discos) as well as remixes for El Columpio Asesino (Mushroom Pillow), Algodón Egipcio (Lefse Records) and Adriana Calcanhotto (Si No Puedo Bailar).
www.balunonline.com
balun.bandcamp.com
Some press quotes:
"Aural hues, infectious vocals and sophisticated 8bits; Puerto Rico's Balún crafted one hell of a good mini-album, one that blossoms as it gets unfold…Memoria Textil is gorgeously crafted; from the artwork itself to its content…A mini-album with a big heart, this is great, can't wait for the actual second album." – Destacados 4/5 stars – CLUB FONOGRAMA
"…Balún's debut CD is a swirling mix of lo-fi electronics and old-school instruments that puts to rest the idea that all indie electronic music sounds the same. Indeed unlike many bands who could be called indie electronic, the trio from San Juan fully integrates the electronics involved so that many of their songs (like "Moving Pictures" or "To My Room") would sound right at home on an Artificial Intelligence compilation or on a mix next to Aphex Twin, Modest Mouse, and Plone…On Something Comes Our Way, Balún has created a very fine record, one that will appeal to lovers of both sad indie pop and inventive electronic music…" 4/5 stars – ALL MUSIC GUIDE
"This Puerto Rican electro/acoustic band presents a dreamy mix of mellow, minimal music that brings to mind seductive Stereolab songs, nonboring atmospheric soundscapes—and the best children's music… It's this playfulness that makes Balún's multi-instrumentalists stand out from other blippy keyboard-sounds-and-breathy-vocals acts." – TIME OUT CHICAGO
Powered by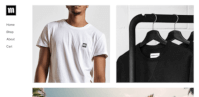 Create your own unique website with customizable templates.